Mounting the rifle sling on K00/11, K11 and K31 (13.09.2020)
Mounting the rifle sling on
Modell 00/11 Carbine
,
Modell 1911 Carbine
and
Modell 1931 Carbine
1. Spread the sling out, remove the buckle and the fastening button.  
2. Check the sling for damages, if necessary treat the sling with leather care.  
3. Loop the strap at the front band according to the picture and lead it through the leather band of the sling.  
.  
4. Hang in the buckle at the back without the sling.  
5. Loop the sling through the buckle according to the picture. The end of the sling comes to rest against the inside, i.e. against the rifle stock.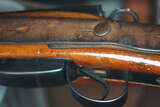 6. Insert the fastening knob as required. The button should always be fastened directly to the end of the sling.  
7. Pull the sling, check seat.